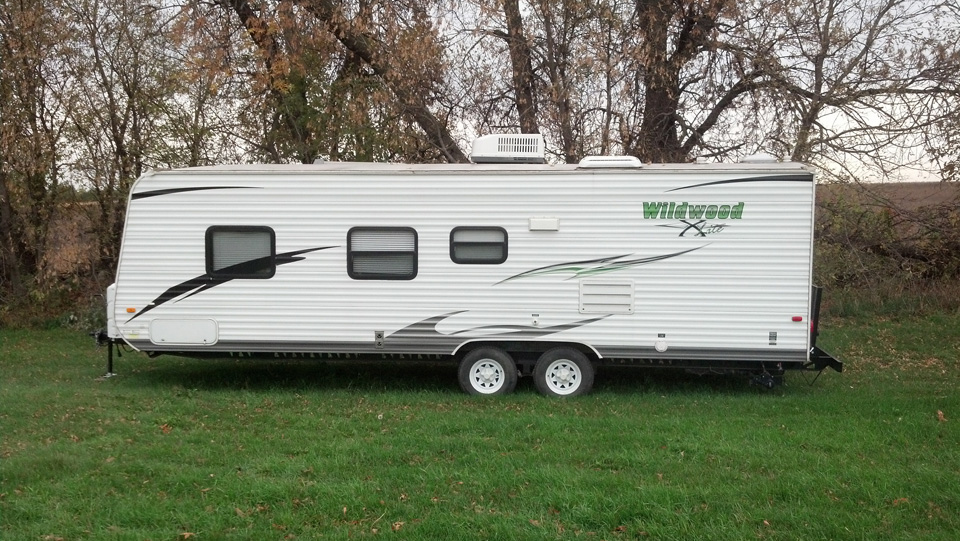 Wildwood
Fuel Type: gas.
Dry weight: 4050.
Sleeps Space: Sleeps 6 comfortably
Includes:
Double bed with single bunk in back, couch and booth fold into beds and queen bed in the front. Plenty of storage underneath. Stored indoors in the winter.
Please email us with questions.
$300/ 3 NIGHTS
$500/ 1 WEEK
Terms and Conditions
General
RV daily miles (included in rental): 100 miles/day
Additional miles charge: $0.30/mile
Generator hour use (included in rental): 8 hrs/day
Additional generator usage charge: $3.00/hr
Min. Number of days required for booking: 4 days
Damage Deposit Amount: $500 class-C & $800 class-A (will be charged at the time of pick-up)
Cancellation Fee: $200
Reservation Deposit: $200
Office Hours
Office hours are generally 10:00 AM to 4:00 PM, Tuesday through Friday and Saturday 10:00 AM to 3:00 PM. Office is closed on Sunday's, Monday's, and major holidays. Departures or returns can be scheduled on these days upon request and are subject to a regular vehicle pick-up / return hours.
Vehicle Pick Up/Return
Vehicle pick-up time is normally between 10:00 AM and 2:00 PM. Pick-ups after 2:00 PM may be subject to a late fee of $25 per hour. Vehicle drop-off time is normally between 10:00 AM and 2:00 PM. Returns after 2:00 PM will be subject to a late fee of $25 per hour or regular daily rate whichever comes first. Customer agrees to return unit in the same condition as she/he received it (excluding normal wear). A cleaning fee charge may apply if the interior of the vehicle has not been properly cleaned. The renter will pay for damages or loss of equipment. Holding tank must be emptied prior to return of the vehicle or be subject to an additional dumping charge of up to $120.00 may be assessed.
Insurance
You must have your personal insurance as primary insurance for the period of this rental. The binder or endorsement should cover the vehicle and name the owner. Lakota Inc. dba Badboyscustom Cycles, as an additional insured. It should also include the Manufacturer, Make, Model, Year, Length, VIN number, License number, and gross vehicle weight, which will be sent to you at the time of your reservation confirmation. It is required that the insurance must be full coverage and include comprehensive, collision, and liability on a primary basis. The appropriate coverage should be the actual cash value of the RV. The limits of liability shall be at least the minimum limits as required by any applicable compulsory or financial responsibility law. Any deductibles shall not exceed $1,500.00.
Reservation Down Payment and Charges
Upon confirmation, a reservation down payment of $200 will be charged to the customer's credit card. A reservation change may require a rate adjustment based on current rates in effect at time of change. One change per reservation is at no charge. Additional changes are subject to processing fee of $25 per change. At departure, your down payment is credited to the total prepayment charge. All cancelations must be made within 48 hours of scheduled pick-up date or renter will forfeit their down payment. One time mandatory $65 Cleaning/Prep Fee will be applied at the time of booking.
***Note: Estimated rental charge prepayment may be required in advance, in full, for special rental events, such as music festivals, auto race events, motorcycle rallies, and gatherings in remote areas.
Security Deposit
A damage deposit of $500 and total estimated rental charges are payable at departure by credit card. Personal checks, cash and ATM cards are NOT accepted (except for the security deposit with prior approval). For certain rentals security deposits may be increased at Badboyscustom sole discretion. Credit card deposits are processed at departure. Your credit card may have a daily limit. Please check with your credit card in advance to ensure coverage of all charges at departure. With pre-approval estimated rental charges paid by other than by a credit card, a minimum deposit of $1,000 is required at departure. Upon return, all extra charges, if any, are charged against the security deposit and a credit or check will be issued to cover the refund.
Driver Requirements
Renter and all drivers must have a valid driver's license and be 25 years old or older. With prior approval, BBC may authorize operators 21-24 years old to drive the RV. Drivers 21-24 years old are subject to the following additional requirements, which must be provided no less than 7 days before departure: a major credit card, three personal references, employment verification and/or a passport. Additionally, all drivers 21-24 years old will be a subject to an additional fee of $25/day. All drivers are bound by the Terms and Conditions of the Rental Agreement. All drivers must sign and be listed on the Rental Agreement at vehicle pickup. Parking/Traffic Violations Customers are responsible for reporting and payment of all parking/traffic violations at the time of return. Failure to report parking or traffic violations are breaches of the Rental Contract. In addition to charges for unpaid fines, the renter may be subject to an administrative handling charge of up to $100.
Rental Day
The Rental Day is based on the number of nights vehicle is used. Each night constitutes a rental day. Rental charges are based on rates in effect on pick-up day.
Early Returns, Late Pick Ups, and Unused Miles
No refunds will be made for early returns, late pickups, or unused miles except for unused estimated mileage charges.
Transportation
Transfers to and from rental center are at customer's expense. Customer pick-up/ drop-off can be scheduled upon request for additional charge. Please, Inquire with Badboyscustom for more information.
Fuel Information
No warranties are made concerning fuel mileage and fuel tank capacity. We assume no liability for fuel consumption rates. All gasoline and all propane refueling during the trip are at the customer's expense.
RV Convenience Kits
The RV Convenience Kit is provided for each trip. All items must be returned clean and in good condition. The charge of $100 against the security deposit will apply for any loss or damage items.
Storage
We provide free storage of luggage and renter's vehicle, at owner's risk.
Pets
Pets are NOT allowed.
Smoking
Smoking is NOT allowed.
Towing
Towing is permitted for RV's equipped with a receiver hitch. Customer must declare intention to tow prior to departure and warrant that towing weight is within 2,500 lb. tow limit restrictions. A nominal towing charge will be imposed. Badboyscustom provides no collision or liability coverage for damage to the towed object or for third-party injury inflicted by the towed object, under any circumstances.
Exterior Storage
Storing items on vehicle roof or exteriors is not permitted.
Maintenance and Breakdown Responsibility
The customer is responsible for checking engine oil, fluids, and coolant levels at each refueling and reporting mechanical failures immediately. Instructions and procedures for maintenance expense reimbursement are provided at time of rental. Customers may be held responsible for mechanical damage due to negligence in vehicle operation or failure to provide normal maintenance. In the event the vehicle breaks down, through no fault of the customer, and is in a repair shop for 12 hours or more, our responsibility to customer is limited to a refund of the daily rate or portion thereof. Radio, air-conditioning, refrigerator, microwave, appliances, cruise control, and generator malfunctions are not considered breakdowns and no refunds are available for repair time of these items.
General Conditions
Rental prices, policies and conditions are subject to change without notice. Rentals are subject to the Terms and Conditions of the Rental Contract. Some restrictions or extra fees may apply. Inquire with Badboyscustom for more information.
***Additional equipment is available. Check with Badboyscustom for availability.